Beautiful Bali – Eight Best Beaches for Topping Up Your Tan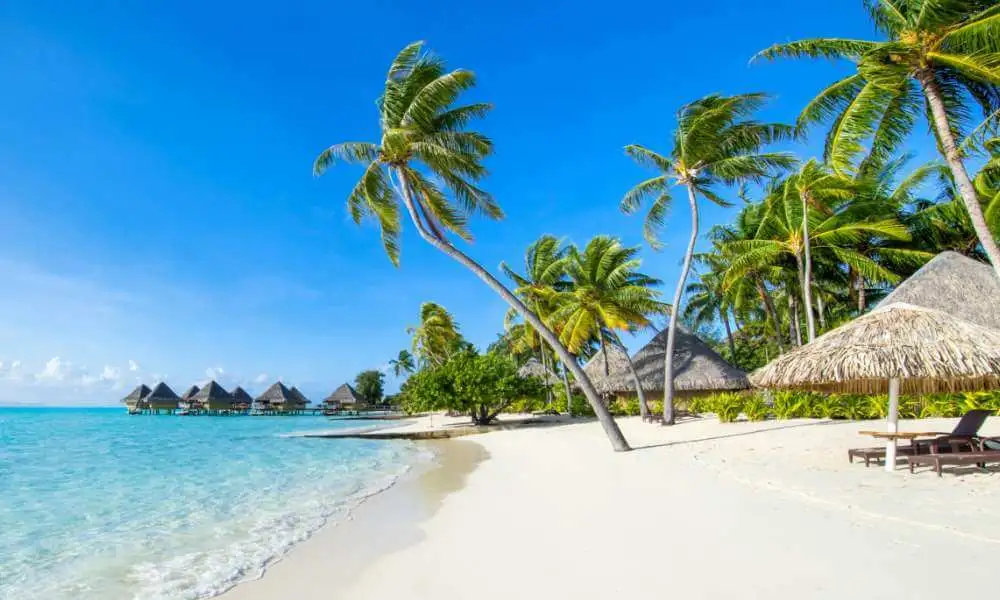 Looking for a perfect destination for your summer vacation? How about Bali where the spectacular beaches will take your breath away?
If you've seen the movie Eat Pray Love with Julia Roberts, you may have fallen in love with this Indonesian island. And why wouldn't you? It's synonymous with freeing your mind from stress.
Whether you're going alone or with your friends or family, the island promises a memorable trip.
The summer months are ideal for visiting this island, even with the incredibly large number of tourists. The best beaches in Bali may get a bit crowded during this time of the year, but wait till you find out about the smaller hidden spots for those who prefer a little privacy…
1. Padang Padang
If you want to visit a picture-perfect beach, make Padang Padang your first stop. The white sand and turquoise waters create a great contrast. It's a wonderful place to spend the whole day.
You won't be able to reach the beach by car, so prepare for a few flights of stairs. There's a large parking lot nearby and a few food stalls serving seafood specialties for when you get hungry. The beach is ideal for sunbathing, swimming, and taking photos thanks to the gorgeous landscape.
2. The Amed Beach
Some of you may visit Bali in search of a snorkeling adventure. If so, make sure to head on over to the Amed Beach. It may easily be the best beach in Bali for water activities.
What makes the experience unique is the black sand that's unlike most of the beaches in Bali. Also, you'll be able to enjoy an amazing view of the volcanoes rising on the horizon. You'll love diving and snorkeling here, as the ocean features beautiful coral reefs of breathtaking colors. They're worth getting an underwater camera for sure.
3. Kuta
Feel like dancing? Kuta is one of those beaches that never sleep, and it's suitable for those who travel with friends and want to party. But if you're looking for a lively place with music and cocktails, Kuta is your cup of tea.
Moreover, the beach itself is quite broad so you probably won't have trouble finding a spot to drop your towel and head to the ocean. At Kuta, you'll also find one of the best beach resorts in Bali, the Sheraton Hotel.
If traveling with small children, you may want to avoid this beach during the busiest hours. The waves make Kuta the perfect location for surfing but that's also why it can get too crowded for swimming. However, the Waterbom water park close to this beach may be more suited for youngsters.
4. Jimbaran
If you want to spend a day on an authentic Bali beach, there's no better choice than Jimbaran. Its location is probably why it's often empty – it's quite close to the airport. That's why you're not going to find too many water activities, clubs, or restaurants on this beach.
However, it's still a good option for walking, swimming, and maybe even a bit of surfing. The beach may interest you with its offering of seafood at fish markets and the friendly locals. And if you want to go sightseeing, you can pay a visit to an old temple nearby.
5. The White Sand Beach
The White Sand Beach is a gem on the east coast of Bali. If you're looking for a private spot without too many prying eyes, this is one of the best beaches in Bali for couples. The peace and quiet, combined with crystal clear water, make it a pretty romantic place.
And when it's time for lunch, you'll have plenty of seafood restaurants to choose from. You may even surprise your partner with a professional massage if you rent a sun lounger.
Even though you'll need to drive to get to the White Sand Beach, you'll realize that it's worth it as soon as you arrive.
6. Seminyak
If you want a totally hedonistic experience of Bali, make sure to visit Seminyak. Located in southern Bali, it's one of the most popular beaches on this Indonesian island. It's known for the fun to be had – with all the beach bars, restaurants with incredible views, and great places to rent a surfboard.
Seminyak can be a classy place suitable for families despite the constant buzz. Depending on the season, the waves are not too high and can be ideal for beginners.
You'll want to stay long enough to capture the sunset and enjoy the magical view of the stars at night.
7. The Echo Beach
One of the tranquil beaches in the past is now quite popular with tourists. The Echo Beach is an excellent choice if you're looking to be where the party is.
The beach bars will supply you with trendy tunes to dance to as you enjoy a cocktail and sunbathe. Chances are, you'll stumble on many digital nomads who pick this beach to be their office for the day.
8. Nusa Penida
If you're looking to spend another day somewhere secluded, Nusa Penida can be a dream come true. This lovely small beach is only accessible by boat after all.
Even though it's underdeveloped compared to the popular Bali beaches, there are definitely plenty of things to do here.
If hiking is one of your favorite activities, you'll love exploring the landscape. No need to bring your own food as there are also cafés with excellent food. And of course, the soft white sand is perfect for sunbathing while enjoying the view of the translucent water.
From Unspoiled Nature to Surf Havens
Bali has it all.
No matter your preferences, you'll find a suitable sunbathing location on some of the best beaches in Bali. You'll also find several modern and hectic beaches where you can party and watch surf shows.
There are quite a few hidden gems here with unspoiled natural scenery and not too many tourists. That's why you can truly enjoy some quiet time here alone or with your partner.
Those who desire an active vacation can go cycling or hiking or take surfing lessons. It's also a great idea to explore the underwater world at some of the best diving locations on this island.
Sounds tempting? Packing your swimsuit is a good start… Bali's calling!
Make Your Trip to Seoul Memorable with These Unique Experiences
Its rich culture and exciting attractions make Seoul a must-see city. Here's how you can ensure you won't miss out on the whole experience.
Located only a few miles from North Korea, Seoul arguably sits in a dangerous location. And this fact is a surprise to many, as Seoul is easily the most visited South Korean cities.
And why wouldn't it be?
After all, the picturesque scenery, bustling markets, amazing monuments, and loads of entertainment venues can keep you busy for days.
When making a bucket list for your trip, make sure to include some of the more unique experiences the city offers.
Check Out the DMZ
It's not a particularly gorgeous attraction, but it is one of the most popular things to do in Seoul. Visiting the demilitarized zone around the border of North and South Korea is undeniably a unique experience.
What's more, it's even possible to step on the North Korean side of the border and return. But you have to sign up for that opportunity and it's not free.
Besides standing between two countries and two cultures that are so similar and yet so different, you can also learn more about North and South Korean history.
Take a Stroll on the Seoullo 7017
Seoul's Seoullo 7017 is pretty much the equivalent of the High Line of New York City. It's a futuristic highway overpass that's recently repurposed in 2017.
Initially built in 1970, the Seoullo 7017 is one of today's most modern elevated parks globally. It connects to 17 walkways and has an eco-friendly theme that inspires awe in most tourists.
You can even find modern art exhibits, cafes, the famous plants that sing, eateries, and so much more along the walkways.
Go Shopping in Shipping Containers
If you want to talk about unique things to do in Seoul, going to the mall probably doesn't come up on anyone's list. But know that Seoul has a very unique mall – one made entirely out of shipping containers.
The massive complex in the Gwangjin district has over 200 containers. Ask for directions to the Common Ground and you'll find it in no time.
The boutique theme seems fitting and the absence of big brands makes it an affordable place for afternoon shopping. You can also easily catch a music event or grab a bite while taking a break from browsing the many pop-up shops.
Admire the City from Above
The Namsan Seoul Tower dates to 1969. A former broadcast tower, it's now a city landmark and one of the hottest attractions even in the whole country.
If you want things to do in Seoul that make for unforgettable moments, a visit to the renowned N Seoul Tower is one of them. The observation deck provides a breathtaking panoramic view of the city and surrounding areas.
Try to get in on a weekday to avoid the noisy weekend crowds and long lines.
Explore the Namdaemun Market
Sometimes, one of the best ways to experience the local culture is through its food. And Asian cuisine is full of surprises, especially for westerners.
If you don't know where to try the local delicacies when in Seoul, one specific market is your best bet.
The Namdaemun Market is the oldest in Seoul and has a reputation for being the most traditional. The diversity of fresh produce is amazing and it's also not a bad place to pick up a few souvenirs.
However, what's great about it is how packed and busy it is every day. You can spend a few hours wandering around, sampling street food, and learning more about local habits.
Tour the Palaces
Koreans did a great job of preserving their monuments and history. And the Changdeokgung Palace is good proof of that. After all, it's one of the most impressive sights you can see in Seoul.
It's one of five grand palaces commissioned during the Joseon Dynasty. The palace is also one of the most affected of the five during the Japanese occupation of South Korea.
Here, tourists can visit the surrounding garden that's initially a place of relaxation reserved only for the royal family. You can visit the palace as part of many tours offered in the city.
Gyeongbokgung Palace is another great attraction that offers a unique experience. One of the coolest things to do in Seoul is to catch the changing of the guard here. It happens on the hour from 10 am to 4 pm all week long, except Tuesdays.
You can also immerse yourself in the experience. Before the ceremony starts, you can try on a gatekeeper costume for free and take pictures. That's an experience that even Buckingham Palace can't match up to.
Escape Bad Weather at the Indoor Amusement Park
Florida may have Disneyworld, but Seoul has Lotte World. So if you want a unique experience, why not explore the largest indoor theme park in the world?
Lotte World has an outdoor section too, but the indoor complex is especially massive. Here, you can ride roller coasters, go shopping, play all sorts of games to start with. It also has a hotel if you want to spend the night in a vast entertainment hub.
When traveling with kids, Lotte World is always worth a trip.
Embrace the Viral District
Gangnam District is one of Seoul's largest and most popular. And its rise to popularity largely had a lot to do with the Korean artist PSY and his record-breaking song.
But it's not just the nostalgia about the music that makes the district a tourist and local hotspot.
The district's one of the trendiest places in South Korea and has a unique vibe and lifestyle. It offers upscale nightclubs, shopping centers, and outrageous venues and events worth seeing for yourself.
A Trip You'll Always Remember
There are things to do in Seoul that are commonly done in many parts of the world as well. So you can easily find enjoyable touristy things to do and sights to see without spending hours planning a trip.
But there are also a few things you can do that can help you forge unique memories.
A changing of the guard where you can dress up like an actual guard? Check.
An indoor amusement park? Check.
Jumping back and forth between two countries' borders? Check.
Seoul occupies a special place in the hearts of tourists who crossed its threshold and will continue to do so for years to come.
Seven Best Campsites in Seoul
Do you want to spend your nights in Seoul in a unique way? Try having an outdoor-only vacation.
Here's something you probably didn't know about camping rules in Korea: Camping in Korea national parks is illegal.
But that doesn't mean you can't absolutely go camping. It just means you can't pitch your tent wherever you want.
In reality, most parks have designated campgrounds so you shouldn't have any problems as long as you pay attention. Check out these campsites if you want a great camping experience in Seoul.
1. Nanji Hangang Park
If you don't want to stray too far outside Seoul, then Nanji Hangang Park is an excellent spot to park for the night.
What makes it one of the best places to go camping is its massive size. Nanji Hangang Park sits on the Han River and has a capacity of over 2,000 people. It offers a total of 165 camping pitches and you can rent a tent or bring your own.
The fee is cheap enough and the multilingual service caters to tourists from all over the world. On the site, you can also find tables, grills, and convenience stores.
Consider camping at Nanji Hangang Park an outdoor experience with city comforts, or something that's akin to glamping.
2. Seoul Grand Park
One of the best campsites in Seoul can be found in Seoul Grand Park. It offers 150 camping pitches and tons of amenities.
What's also great is that you can also rent a pitch during the day if you want to have a barbeque with the family without spending the night at the park. You can also rent any camping equipment you need at the campsite.
The nearby Grand Zoo and Seoul Land Theme Park are great attractions to visit with the family. You also have the National Museum of Contemporary Art close to the park if you want to discover local art.
However, most people choose camping at Seoul Grand Park because it sits in the Cheonggyesan Mountain forest. It has breathtaking scenery, plenty of shade, and multiple trails you can explore.
3. Noeul Park Campground
You can find another popular campsite near the World Cup Stadium. The Noeul Park Campground has a vast green pasture rich in local wildlife and wildflowers.
Initially a landfill, it's now one of the most gorgeous places in all of Seoul to pitch a tent and enjoy the outdoors. The campground also has over 20 lookouts that are ideal for sightseeing.
Although it's not as massive as other campgrounds, you can still find over 100 campsites. And all of them are fully equipped with necessary amenities like tables and grilling areas.
However, note that many locals spend their afternoons there too, so it can get crowded at times.
4. Choansan
Many campgrounds in and around Seoul can get very busy and noisy, as the young crowds are known to party outdoors.
If you're traveling with your family and want to park in a more family-friendly spot, try the Choansan camping grounds. It's one of the best locations on Choansan Mountain and offers 54 camping sites.
It can accommodate up to 216 people at about four occupants per tent. And if staying in a tent isn't to your liking, you can also choose to rent one of the local log houses. But unlike other campgrounds, you won't find much camping equipment to rent at Choansan.
That said, its cabins have everything you need, including a spa and pool area. It's a quiet location and considered one of the best campsites in Seoul when it comes to scenery and relaxation.
5. Gangdong Campground
Another family-friendly spot is on the Injasan Mountain where you can find the Gangdong Family Campground.
It has decent parking, plenty of spaces, and amazing surroundings and amenities. You can experience spending the night within the in-forest shelters. Fortunately, you'll also have access to electricity so you can access all your appliances and gadgets with you during your stay.
You'll even find hot showers, a water fountain, even a forest library here. And many tourists choose Gangdong for its relaxing atmosphere, lush surrounding forests, and stargazing potential.
6. Grand WalkerHill
If you prefer glamping, you might want to check out one of the local resorts. The Grand WalkerHill Hotel offers a luxurious camping experience for its guests right on the hotel grounds.
From there, you can observe Mount Acha in all its glory, as well as the famous Han River. The amazing sights on the camping site are as impressive as the service and dining experience they offer.
If you camp at the Grand WalkerHill, you don't just get a luxury tent to spend the night in. You also get the same level of service offered by that of a luxury resort.
It's not the cheapest, but it can provide a unique inner-city camping adventure.
7. Pine4Rest
Don't be afraid to step outside of Seoul to find an amazing experience. Pine4Rest is one of the best campsites in Seoul, even if it's more than one hour away from the inner city.
Its location is the star attraction, as Pine4Rest sits in a coniferous and pine forest. The tents there have an interesting design and often remind guests of ramyeon bowls.
Although minimalist in design, they look luxurious and have the amenities to back up their glamping allure. Each tent has an AC unit, as well as a bathroom and a living room.
Seoul – A Camping Trip You Won't Forget
There's so much to see and do in Seoul that most people don't realize that camping is among the biggest attractions in the area.
In fact, the best campsites in Seoul have everything for everyone. You can go with the most minimalist approach and rough it in the great outdoors. And if you want some pampering in nature, staying at one of the city's glamping sites is the next best thing.
You can enjoy a full stay in Seoul as close to nature as you want. The city allocates a vast amount of land to this specific goal, for the enjoyment of natives and guests alike.
What to Know Before Traveling to Kyoto
With good planning and common sense, you can make your trip to Kyoto the most memorable adventure yet.
The one-time capital of Japan, Kyoto keeps many of their old traditions alive to this day. It's a modern city that still holds so many temples and shrines festive and in great conditions.
Kyoto isn't exactly a go-to destination for people who want to ride roller coasters or go surfing. But it's an excellent spot for anyone hungry for Japanese culture and history.
Although there's much to see, you can't book a vacation in Kyoto unprepared. You run the risk of missing out on unique opportunities and experiences. Use this as your guide to having the most amazing vacation possible.
Planning Is Everything When Visiting Kyoto, Japan
Kyoto is rich in culture, history, and landmarks. It's not one of the biggest cities in the world, but it still has so much for you to see.
When booking a vacation in Kyoto, the best advice anyone can give you is to plan ahead. Take some time and do some research. Better yet, try to find a local guide to point you in all the right directions.
The selection of temples, shrines, eateries is massive. It's easy to miss out on a once-in-a-lifetime opportunity without good planning.
Bring the Right Clothes
Kyoto's seasonal weather is something you should prepare for before leaving. Summers get very hot while winters have freezing temperatures. Note that for three months, Kyoto isn't just very hot but also very humid.
Make sure you pack enough layers if you plan on traveling to Kyoto after October. And bring enough light shirts with you when visiting in the summer.
Always check the weather forecasts for advanced warning. Don't forget your comfiest pair of shoes either. You'll do a lot of walking and sightseeing after all.
The Transportation System Isn't Tourist-Friendly
Even the locals think that the transportation system is too complicated. 
You'll see lots of busses and so many lines that intersect. The trains can help you get to places faster, but they don't always stop near popular hotspots. You can't always walk to your destination, either.
In an effort to save time, consider buying a one day pass for the metro or busses.
Managing Crowds and Expenses
There's a bigger issue than wondering where to stay in Kyoto. Sometimes it's best to think harder about when you should go.
Thousands of tourists plan on visiting Kyoto every year. This means that you'll find cheaper accommodations in the offseason and more vacancies.
It's also a good idea to avoid the months of April to May if you don't want to deal with masses of tourists. Interestingly enough, even the locals seem more welcoming in the offseason, which can lead to a more immersive experience for you.
How to Find the Best Value Meal
Many tourists travel on a tight budget. But that doesn't mean they can't enjoy the full experience of the local cuisine.
When traveling to Kyoto, take some time to research local eateries near your hotel. You should also know that every Kyoto restaurant offers multi-course meals at lunch and dinner.
If you want the best value, try to make your lunch the most important meal of the day. Many restaurants offer sampler menus. It can save you quite a few yen for other activities.
Set Money Aside for Tours and Attractions
There are many conflicting numbers regarding how many temples and shrines are in Kyoto. But you can bet that it's not the City of Temples for no reason. But some say that there are at least 1,600 temples in the area, in addition to a couple of hundred shrines.
While most of these sites are free to enter, some charge admissions. And there are a couple of other attractions that charge for tours.
Enjoy most of the free activities that you can plan for. But set some money aside for paid tours, too, to avoid missing out on unique opportunities.
How to Exchange Your Money
If you want to buy or pay for something, you need to have some Japanese yen on you. So, it's important that you exchange your money once you get there.
The best places to exchange currency are always banks and post offices. Yet, they're not the most pleasant because of the wait.
An alternative is a kinken shop. These places also exchange unused event tickets.
If you want to withdraw your yen from an ATM, you can do that, too. Beware the conversion fees, though. Most ATMs will ask you if you wish to proceed with the conversion but always check the NO box to avoid the terrible rates of foreign banks.
How Much Should You Stay in Kyoto for a Full Experience?
In just three days, you can see most of the must-see Kyoto attractions. Unfortunately, that also means sticking to a strict and packed itinerary.
The best way to experience Kyoto is to go for a longer stay. Try to book a five-day or seven-day trip to take in more of what the city has to offer.
An extended visit will give you some flexibility and allow you to enjoy the sights even more. It will also give you time to explore the parks, gardens, and sample more of the local cuisine.
Besides, many of the top attractions aren't in the city. Some of the most notable attractions involve taking a half-day trip beyond the city limits.
Enjoy Your Stay
Traveling to Kyoto demands good planning. Sure, it's still exciting to discover things on your own, even if you are to get lost.
But it's also a big area with lots to offer in and around the city. Take some time and think things through before you leave. Make sure that you get the best weather and enough time to do all the things you would enjoy.
If you do it right, Kyoto won't burn a hole in your pocket by any means. And it also won't hurt to study some Japanese etiquette before you go. Some locals may not be too fond of strangers that don't know how to talk or behave around them.